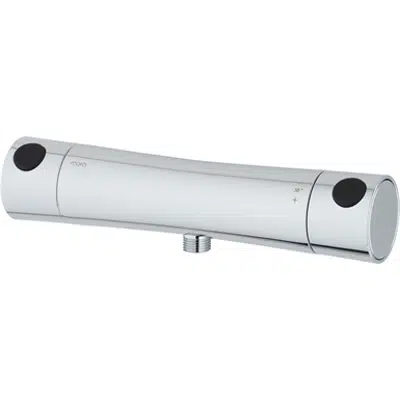 Temperature- and pressure balanced thermostatic shower mixer with outlet down. Safety stop at 38°. 160 c/c. Fulfill the 4MS demands. Chrome.
RSK 8351097
261100 with outlet down, 150 c/c
RSK 8351098
261100.DB with outlet down and s-connection. 150 c/c.
RSK 8351099

An elegant and strict mixer expressing usability, beauty and durability. Mora One is inspired by the 90-year old history of Mora Armatur, but is designed for a modern home.
– A warm, sober and elegant series, says Thomas Sandell, architect and designer.
Detailjer

Product family:

Shower Mixers

Product group:

Mora One

Main material:

Brass

Designed in:

Sweden

Manufactured in:

Sweden

Height (mm):

59

Width (mm):

296

Depth (mm):

85

Weight (kg):

2.0

Publishing date:

30 november 2017
Revit
3ds Max
3ds Max
AutoCAD
AutoCAD
AutoCAD
AutoCAD